Sustainability Reporting & Predictive Analytics
Analyse, share, and report on your sustainability practices with accuracy. Use our real-time and predictive analytics to reduce consumption and carbon footprint.
Toustone's sustainability solutions are Australian Accounting Standards Board (AASB) and ISSB IFRS S2 compliant.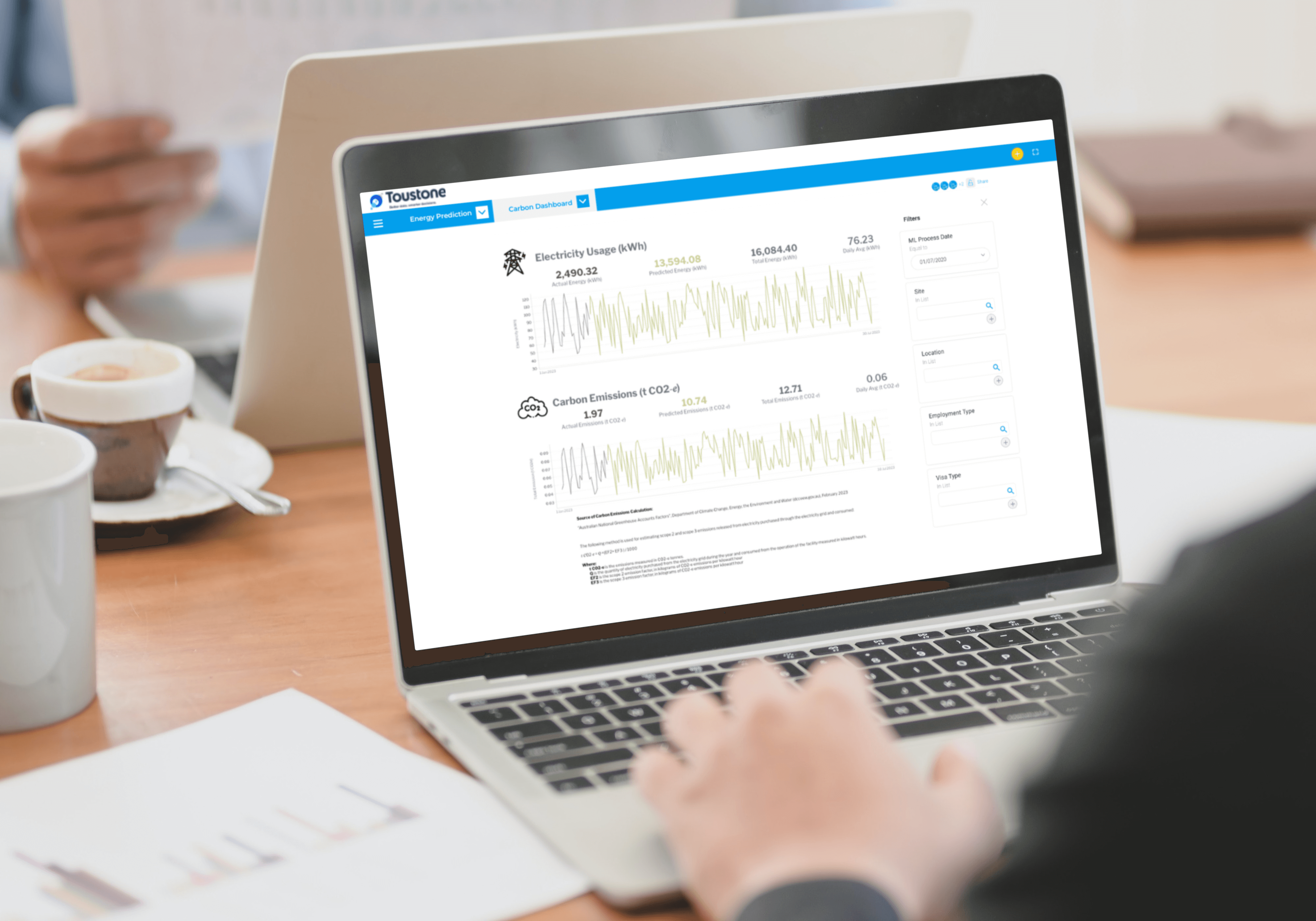 Sustainability reporting challenges
Reporting on energy, water, waste consumption, and carbon footprint can pose complex challenges for both businesses and government entities. This entails tasks such as obtaining reliable data, adhering to national regulations, and engaging with stakeholders, making it a substantial undertaking. The challenges may include:
The management of energy, water, waste consumption, and carbon footprint reporting is intricate and time-consuming.
Acquiring, cleaning, and validating extensive data sets, often in varying formats, across multiple platforms and locations, proves to be a complex endeavor.
Addressing a wide array of sustainability and carbon reporting requirements and regulations.
Difficulty in obtaining accurate real-time usage insights and predictive usage data to promptly address issues.
The necessity to establish transparency with stakeholders regarding ESG (Environmental, Social, Governance) performance.
Key Elements of our Sustainability Reporting & Predictive Analytics
Sustainability & Carbon Footprint Reporting
Our sustainability reporting is compliant to national standards and ISSB IFRS S2 compliant. We take data accuracy seriously, understanding the implications of greenwashing and looming government mandates, which is why we will provide you with a sustainability report you can trust to accurately communicate your carbon footprint to stakeholders. Our sustainability report will also give you a deeper understanding of your environmental impact so that you can develop effective sustainability strategies and programs to address this.
Individual carbon and greenhouse gas footprint (e.g By Asset, By Office or Warehouse, By Country, By Region)
Whole of company carbon footprint
Scope 1, 2 and 3 options and add-ons
National regulation and ISSB IFRS S2 compliant
Ability to add bespoke sustainability reporting based on your company goals
Real-time energy, water and waste consumption dashboard
Access real-time energy, water, and waste insights at both macro and micro levels through our sustainability dashboard, enabling timely, confident and data-driven decision-making to minimise your carbon footprint.
Automated current (real-time) and historical insights.
Identification of high usage areas or assets in real-time.
Ability to optimise efficiencies against both peak and off-peak demand and pricing.
Supports continuous operational improvements to achieve sustainability goals.
From executive to operational sustainability dashboards, adjust displays based on needs.
Predictive Sustainability Analytics
Toustone's Sustainability Predictive Analytics add-on module leverages cutting-edge Machine Learning and data science techniques to provide predictive insights which support businesses to proactively optimise energy consumption, minimise carbon emissions and strengthening ESG performance.
Energy, water, waste predicted consumption for next 12-24 months
Actual versus forecast consumption to help with variance tracking
Identify levers to pull to reduce predicted carbon footprint
Sustainability program scenario/activity testing predictions
Reach your sustainability goals with confidence backed by highly accurate predictions
The Toustone Edge
Key differences between Toustone's Sustainability Reporting and Predictive Analytics solution and others in the market:
For over 20 years our founders have been working with sustainability data for some of the world's largest brands
We use real-time and live data (we can use static if you request this)
We orchestrate across your existing data, so there is no need for new software
We are Australian owned and operated. We understand Australian government mandates, investor, employee and community expectations
Because it is one source of the truth of clients real data, quality, certainty and trust are delivered
We run machine learning across your data, therefore in addition to sustainability reporting, clients get predictive analytics on future use with 99.9% accuracy. This creates real-time benchmarks.
The way carbon footprint data is analysed and delivered, it gives you direction on how to change behaviour. Our sustainability reporting and predictive analytics is not simply static historical data, it is live, predictive and actionable.
We're not operating in isolation; we tap into our extensive partner network's expertise in ESG, climate change, and sustainability. This ensures that our solution not only addresses your current needs but also aligns with the future direction of sustainability reporting.