Request a Agri Demo – Free Trial
Request access to the Agri BI Demo
Please fill in the request form below and we'll be in touch with a link to access the Agri Demo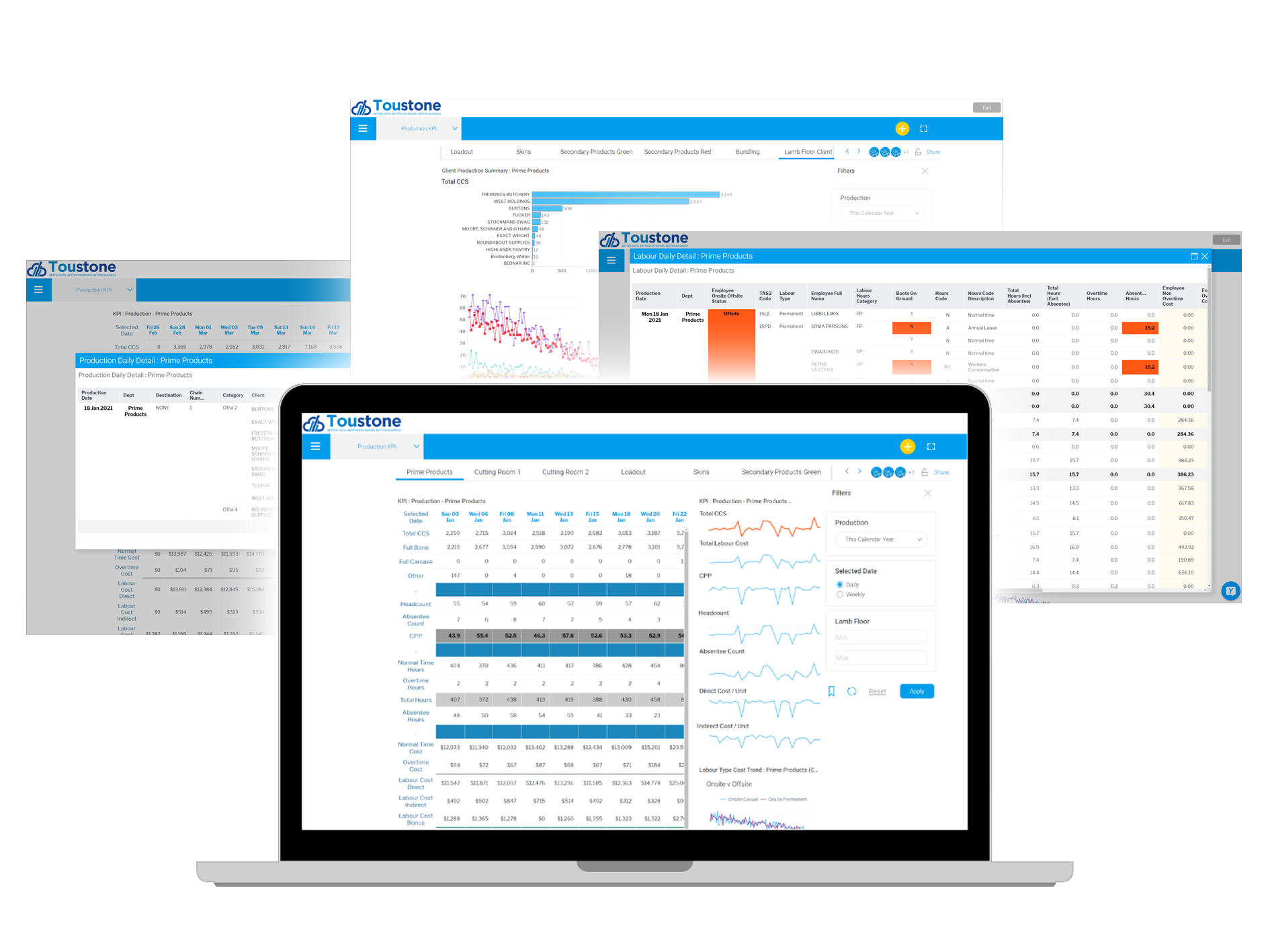 This solution is based on the one given to Gundagai Meat Processors and is a fully automated and integrated solution containing the following:
Production Systems
Time and Attendance Systems
Payroll Systems
Finance Systems
This is in order to produce an automated daily KPIs series of reports and dashboards. 
Please note:
All the data seen in this demo is completely fictitious of GMPs dashboard. This is an example of a dashboard that is aligned with the KPIs of the processing organisation, this platform's layout and visualisations are entirely customisable to the intended user.
Agri BI Solution Demo Video
Adam Sharp takes us through the Agri BI Dashboard, highlighting the true power of utilising data in the meat industry to create better business outcomes! 
What our clients say about us

The decision to go with Toustone was easy. We liked the idea of dashboard reporting, the simplicity of use and the fact that everything was integrated, giving us exactly what we were after. The Toustone team was super helpful and switched on, which helped us identify clear winner.

Kirinari was struggling with adjusting to the NDIS, where the requirements for evidence and real time data is essential, where we need to know how much we are spending at any given point in time and that's got to be entirely based on an individuals NDIS plan. Toustone coming along was just incredibly fortunate timing for us, it was like a marriage made in heaven. They have exactly what we are looking for and were able to work with us and figure this out.

"For us, it's not about reporting – plenty of solutions offer reporting. What we needed was solid analysis and a tool that gave our sales and marketing people absolute ownership and accountability. It's about growth, forecasting and performance against budget. The analysis capability in the Yellowfin product lets us get in and find out the 'why', then we can work out the 'what's next'."

"We are a 'data rich' plant. We have many systems capturing data which can be overwhelming and hard to manage but since working with Toustone they have positively influenced our labour costs and productivity. During this process, Toustone have been great to work with and are always readily available. We look forward to working more with them to bring even more value to the business."